The following post has been created using sections of the "Events Post Covid-19" business report. To download the full PDF report including all 13 measures to consider, click here.
It's a turbulent and unprecedented time for all businesses, and it's safe to say that due to lockdown measures hospitality and tourism have been hit particularly hard. A recent survey from ONS*, out of 6171 businesses surveyed 82% reported a temporary pause to trade. 
So, how can we prepare to economically and logistically recover from Covid-19? What measures could be implemented to help support the return of events?
Thoughts from Across the Industry
Facebook recently announced the cancellation of all events of more than 50 people until 2021, but is this a measure the industry as a whole feel is necessary? Scientific event has not yet suggested that such drastic measures are required.
In complete contrast, The Meetings Show, an events calendar highlight, has confirmed it will go ahead in October 2020. Over 5,000 people attend the exhibition, so many are questioning if the show will safely be able to proceed.
A recent study shows that 40% of event planners expect the industry to return to normal within 6-12 months, with 50% expecting normality to resume in spring 2021. The same study cites that 50% of those surveyed remain optimistic about the future, with a further 12% undecided. This shows there is an overall sense of confidence that our ordinary work routines will return.
However, there are positives we can take. We have been forced to dive headfirst into virtual technology, an area which has been quietly ticking along in the background for many years.
What could events look like?
The future may be looking unsettled, but at The New Black Studio we wholeheartedly believe that if the events industry pulls together and considers a number of both new and existing measures to ease the transition, it will thrive in the future. What measures can we consider now to ease the inevitable shift?
Measures to consider at Events Post Covid-19
High demand for bigger venues
The easiest way to physically distance is to add more space. We expect to see a significantly higher demand on larger venues as planners attempt to adhere to measures by keep attendees apart where possible.
No theatre-style seating
At The New Black Studio, we aren't huge fans of theatre-style seating. It allows attendees to hide in a mass of people, and as we know, masses of people will be discouraged. Instead of theatre style, consider cabaret or U-Shape. It's a much more conversational and interactive style of seating, plus you will be able to sit people further apart.
Has this been done before? Yes, at plenty of conferences across the globe.
No contact registration
The registration desk is a staple part of a typical event set up, but they come with significant contact and shared surfaces. Plenty of people have touched name badges by the time they make it to a desk, so we must consider ways of reducing contact.
Printing badges at home could provide an effective way forward, with self-scan registration points upon entrance. It works in the same way as an oyster card, tap in tap out.
Has this successfully been implemented before? Yes, at every London tube station, and events such as Venues & Events Live.
Distance between exhibition booths
We're used to seeing The ExCell and Olympia filled to the brim with exhibitors, all tightly squeezed into one space. Right now, of course, they're being used for food banks and temporary hospitals. As venues resume their normal practices, we should be wary of the lurking virus and allow for more space between each stand.
Has this successfully been implemented before? Yes. As planners, we have the tools to create and enforce floor plans appropriately.
Unmanned exhibition booths
Organisers should consider the number of people who are operating exhibition stands, if any at all. With increasing pressure on exhibitors to create booths which encourage engagement and follow up post-event, it would be incredibly intriguing to see the impact on engagement if all exhibition stands are unmanned. Would we see an increase due to not feeling harassed/awkward/like we're being sold to? Or will the need for human engagement prevail?
Has this successfully been implemented before? No. We will need to think cleverly about how to ensure attendees still engage without human interaction. Producing visually compelling and creative booths will be paramount, with clever design being vital.
Goodbye round tables
Round tables are tight at the best of times. Seating ten people on a 5ft table used to pass as acceptable. In reality, it's too close for comfort, and that's before any measures are in place! Even a large round is only 6ft. Placing just ten people rather than the standard twelve will still not be enough distance.
It's tough to hold a conversation across a 6ft table! Long tables are a much more flexible alternative. The standard width per person is 2ft, but industry-wide we should be considering increasing this by at least double. On a standard 6ft by 3ft table, you will still be able to have ample conversation with five people surrounding you, while maintaining a safe distance.
Has this successfully been implemented before? Yes, at plenty of intimate networking dinners.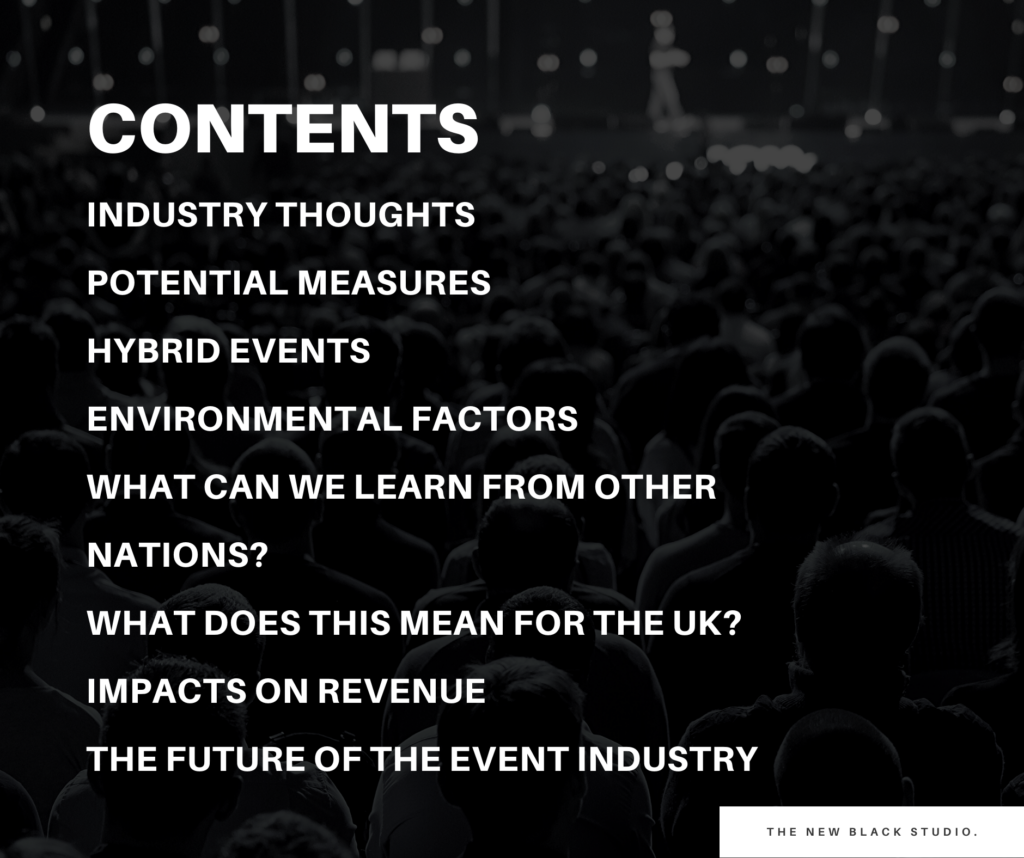 What are other countries doing
Download the Events Post Covid-19 full report to access this section
And what about revenue at Events Post Covid-19?
As many other businesses and industries are attempting at the moment, looking outside of the usual remit to provide extra value is the only way forward. Primarily, the cost of a ticket to any event is a value exchange. Consider other ways you could be providing value to your customers. Perhaps in the form of downloadable workbooks at a low cost or one to one online sessions.
We're seeing many people trying to upskill at the moment, from using this learning a new language to getting in shape. People are using their spare time to invest in themselves, so how can you provide opportunities that support these trends? Perhaps you run a course to brush up on your networking skills or use this time to teach your clients how to host a small event themselves. Create resources, create content, create a value exchange. Revenue will follow such a pivot in the business model. And who knows, you might unearth something that sticks.
When can we resume large scale events?
I hope that if you've read this document thoroughly, you'll know we can't answer that question. The future is unsettled, but bright. Events will one day be in high demand again, and we'll be wishing for the luxury of being furloughed for a day.
Normality will resume, but we also have a huge responsibility as an industry to be safe. As we all know, weighing finances with risk is an incredibly delicate balancing act to be playing right now, but encouraging crowds of people to be in the same room without following official advice would not only be irresponsible but extremely dangerous. Just as we always carry out risk assessments, this situation should be no different.
At the moment, the risk is too high, and it looks as if it will be for a while longer. For the next few months, we will all be going through the process of assessing, and reassessing. Right now, staying up to date with information and continuing to stay educated is the best we can do in an attempt to recover. Knowledge is power, and businesses should take solace in that fact that very few people have the information they need right now.
Whether we take Facebook's long-term approach or The Meeting Show's more optimistic view, eventually we will see Events Post Covid-19. We will once again enjoy a glass of wine at Banqueting House or an exquisitely cooked meal from Bubble. But until then, we must remain informed and resilient. See you at the reg desk.
To download the Events Post Covid-19 full 22-page report, please complete the form below or click here.